LEAKY SHOWERS case study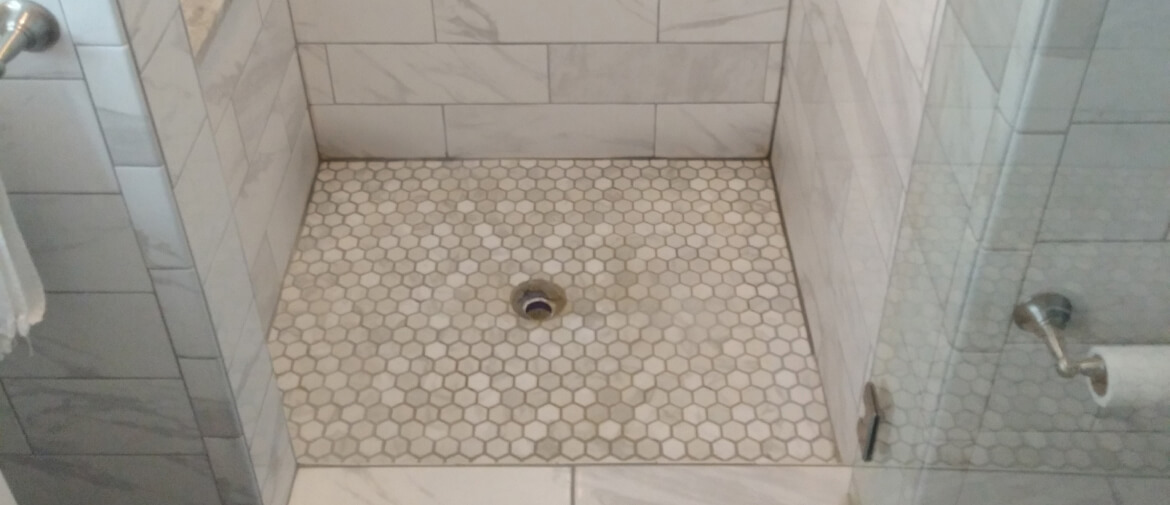 You Don't Have to Start from Scratch
to Fix a Leaky Shower
When you find yourself staring down a leaky shower, there could be several factors to blame. At Downright Tile and Renovations, most of the leaks we are hired to fix are caused by poor construction and ineffective waterproofing methods. (If any waterproofing was used at all.)
Once the homeowner notices the leak, most contractors will jump straight to ripping out the entire shower and building a new one from scratch. As you might guess, not many homeowners are thrilled by that idea.
Fortunately, it is possible to fix a shower leak without tearing the whole thing out. We know, because we do it all the time. In many cases, we're called in to repair a shower that's leaking because of the faulty work of another contractor.
Our standard approach looks something like this:
First, we remove the bottom row (or rows) of tile just above the base of the shower.
Then, we remove the drain assembly and shower base.
We connect a new drain assembly and form a new shower base.
We install a waterproof membrane to the base, drain flange, shower curb, and all the walls.
After that, we tile the shower base and install the drain grate.
Finally, we can retile the shower walls and seal the grout.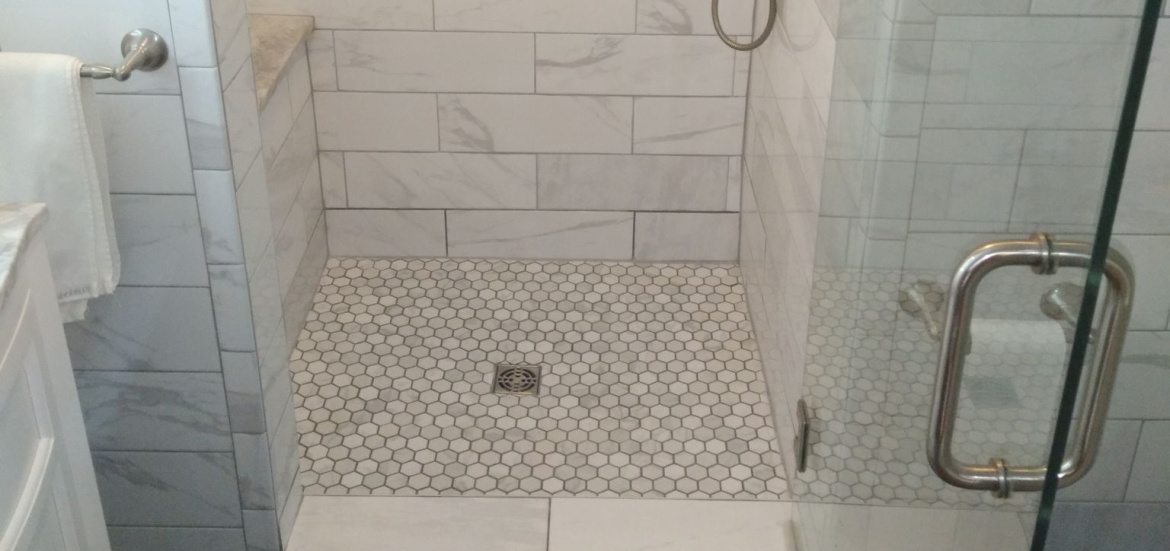 That may sound a little complicated, but believe us, it's a whole lot simpler than rebuilding a shower from the ground up. We've employed this strategy many times, and we haven't had a single dissatisfied customer yet. Here's what one happy customer had to say:
Donald White, Independence, MO

"Downright Tile and Renovations repaired a faulty installation of a tiled shower floor. The previous contractor did not know what he was doing and the floor leaked badly. Downright Tile was great to work with on the project and now the shower works great. They were responsive, on time and within reason on cost. They finished the job ahead of schedule."
The same strategy works for a shower base that won't drain any water at all. For example, one customer had hired a family friend to tile their master shower. Once the project was done, the shower floor wouldn't drain.
The homeowner gave us a call, and we put our tried-and-true strategy to work. In no time, we'd given the customer the beautiful, functional shower they had wanted all along. They were so pleased, they left us this kind review:
Alexzis Thomson, Blue Springs, MO

"Thank you, Downright Tile and Renovations, for the awesome tile work! You helped convert our nightmare shower into a working shower!

We initially hired a family friend to tile our master shower and shower floor. Long story short, the shower floor was not set properly and did not drain the water. :(

I found Downright Tile and saw they had a knack for tile (especially showers), and knew they were the right company for the job.

They knew exactly what to fix and how to fix it PROPERLY. They came in and did the job fast and effective! I can't wait to use the shower and not have to use a squeegee every time I get out.

Thank you again!!! I highly recommend!"
Too many contractors are stuck in the mindset that the only way to fix a leaky shower is to rebuild it completely. We always go for the solution that saves our customers time, money, and a whole lot of headaches. Everyone wins!