Designing a Tiled Shower for Senior Citizens: Safety and Accessibility
Layout and Space Considerations:
When designing a tiled shower for seniors, consider the following layout and space considerations:
a. Entry: Opt for a zero-threshold entry or a low-threshold shower, eliminating any tripping hazards. This allows seniors to enter and exit the shower with ease, especially for those using mobility aids like walkers or wheelchairs.
b. Size: Ensure that the shower area is spacious enough to accommodate a caregiver if needed or to install additional accessibility features in the future.
c. Grab Bars: Plan for strategically placed grab bars inside the shower to provide stability and support. These bars should be securely installed and capable of supporting the weight of a person.
Flooring and Slip Resistance:
Slippery floors can be hazardous, especially for senior citizens. Consider the following tips to ensure a safe and slip-resistant shower floor:
a. Tiled Flooring: Opt for textured, non-slip tiles for the shower floor. Look for tiles with a high coefficient of friction to provide excellent traction, even when wet.
b. Grout Lines: Choose smaller grout lines, as larger grout lines can be difficult to clean and may accumulate grime or mold over time.
c. Drainage: Design the shower floor with proper drainage to prevent standing water, which can increase the risk of slipping. A linear or trench drain system can be an effective solution.
Shower Seating and Storage:
Seniors often require additional support and comfort while showering. Consider the following features to enhance accessibility:
a. Built-in Shower Seat: Install a sturdy, built-in shower seat to allow seniors to shower in a seated position. The seat should be at a comfortable height and made of a non-slip material.
b. Adjustable Showerheads: Install an adjustable showerhead that can be easily maneuvered to accommodate different heights and needs.
c. Storage: Incorporate accessible niches or shelving within the shower area to hold bathing essentials. This eliminates the need for seniors to reach out or bend down to grab items.
Lighting and Temperature Controls:
Good lighting and easy-to-use temperature controls can greatly improve the safety and comfort of a shower for senior citizens:
a. Lighting: Ensure the shower area is well-lit with bright, non-glare lighting. Consider installing motion-activated lights to eliminate the need for fumbling with switches.
b. Temperature Controls: Use easy-to-operate, anti-scald temperature controls that allow seniors to adjust the water temperature comfortably and avoid sudden temperature fluctuations.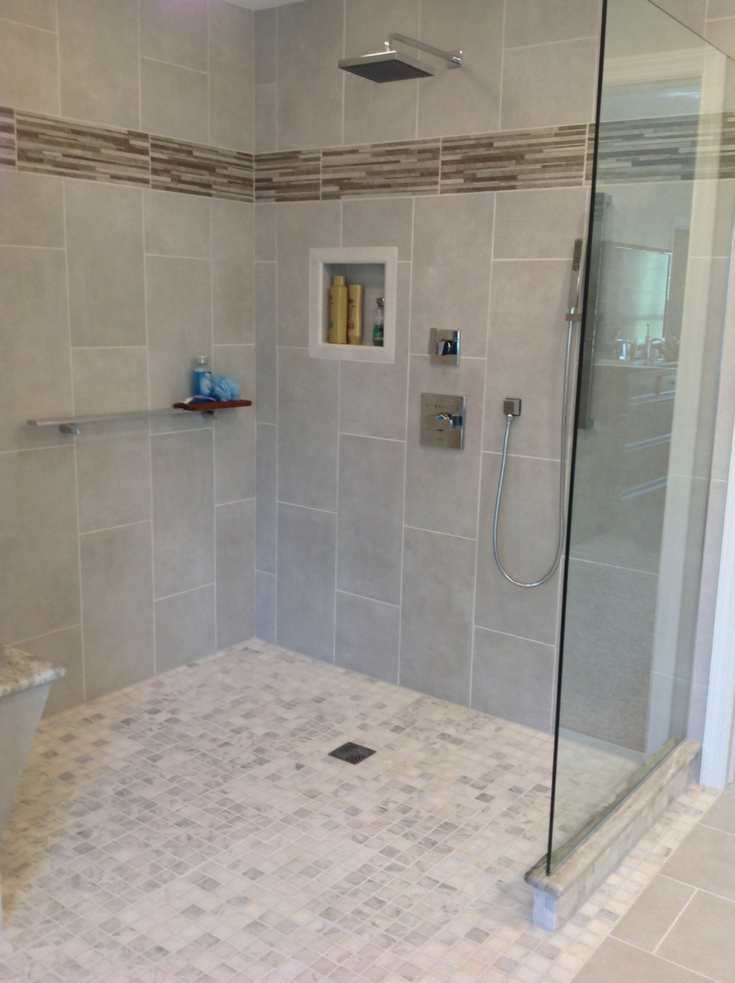 Designing a tiled shower with the specific needs of senior citizens in mind can significantly improve their bathing experience while minimizing the risk of accidents. By incorporating features such as zero-threshold entries, slip-resistant flooring, grab bars, seating, and proper lighting, you can create a safe and accessible shower environment for seniors. Remember, it's essential to consult with professionals, such as contractors or occupational therapists, to ensure that your design meets the unique needs of the individual or household. With careful planning and attention to detail, you can design a tiled shower that promotes both safety and independence for senior citizens.
Daniel J Lopez

I am very happy with my experience with Downright Tile and Renovations. They had great communication, explained everything well, were punctual, and kept the job site clean. The finished product is exactly what we were hoping for and the price was good. I would definitely recommend them for any tile jobs you have in the future.
"Unlock a world of possibilities! Experience the joy, convenience, and peace of mind you deserve. Take the next step today and discover how a customized master bathroom can enhance your life."
;