Is Your Floor (or Wall) Flat Enough for Large Format Tiles?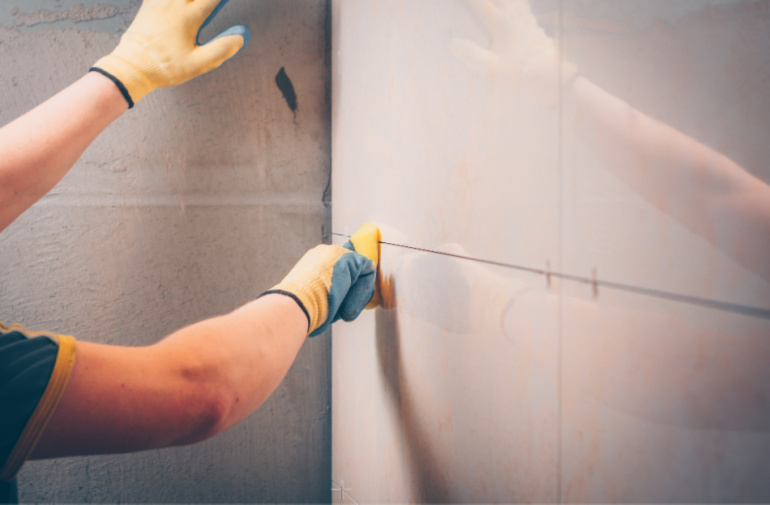 Over the years, larger tiles have become more popular with homeowners and businesses alike. These large format tiles have their benefits, such as reducing grout lines. But they also come with stricter requirements for how flat any surface they're installed on has to be—and getting it wrong can have serious consequences.

So how do you know if your floor or wall is flat enough for large format tiles? Let's talk about it.
What Is a Large Format Tile?
The standards for large format tiles have grown significantly. Previously, a large format tile was any tile larger than 8" x 8". Now, it's defined as any tile larger than 12" x 12". (Technically, any tile larger than 1 meter x 1 meter is considered a slab or panel, not a tile, but for the sake of convenience, we'll stick to tile for now.)

Regardless, large format tiles are gaining traction in both residential and commercial remodeling projects. Many homeowners and businesses are embracing the benefits of bigger tiles. That's because large format tiles can make a space feel larger than it really is, and fewer grout lines means less time spent scrubbing the gaps.

Best of all, large format tiles come in a variety of styles, colors, and patterns. From marble to concrete to porcelain to stone, you can find just about any type you want for your home or business.
What Happens If a Surface Isn't Flat Enough for Large Format Tiles?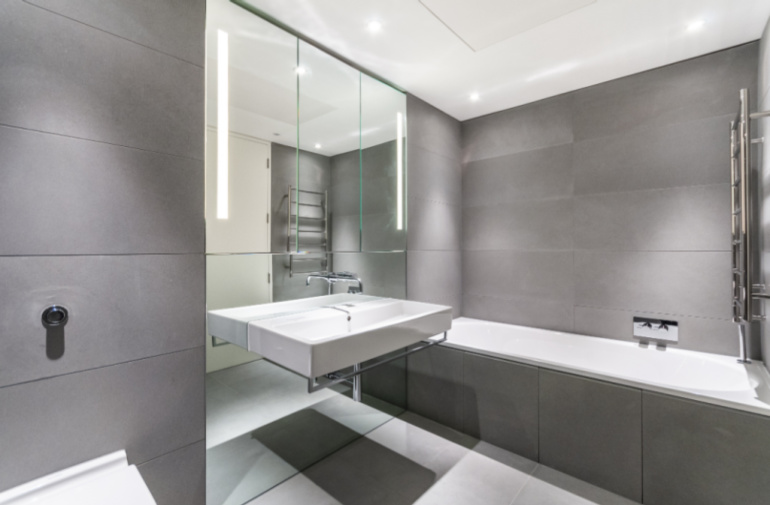 If a floor, wall, or other surface isn't flat enough, it will make it difficult to install large format tiles correctly. More often than not, you'll end up with tiles that aren't level with each other. The edges will be uneven, creating an unsightly appearance called lippage.

In the case of tile floors, lippage can even become dangerous, as it creates a tripping hazard. A tile installer who allows too much lippage can be sued for negligence if anyone trips or is otherwise hurt.

Both professional tile installers and DIYers must take the time to ensure a flat surface before laying any large format tiles.
How Flat Does a Surface Have to Be for Large Format Tiles?
According to the American National Standards Institute (ANSI) Standard for Subfloor Surfaces:

"For tiles with at least one edge 15" (0.38m) or longer, the maximum allowable variation is no more than 1/8" in 10' (3 mm in 3 m) and no more than 1/16" in 24' (1.6 mm in 0.6 m) from the required plane, when measured from the high points in the surface."

For tiles with all edges less than 15", the maximum allowable variation is 1/4" in 10' and no more than 1/16" in 12'.
How Do I Know If My Surface Is Flat Enough for Large Format Tiles?
Figuring out the flatness of a floor or wall is pretty easy. Just lay a ten-foot straightedge on the floor or wall and move it around. As you move it, measure the largest gaps that form between the straightedge and the surface.

If you're laying tile with an edge greater than 15", as long as that gap is less than 1/8th of an inch, you're fine.

If you're laying a tile with an edge less than 15"—let's say 12"—then the gap can be as deep as 1/4".

And even if the surface isn't flat enough, don't lose heart. Mark the highest and lowest points that are causing these gaps. Then, you can fill the low points and grind down the high ones to fix the problem. This should give you a surface that's suitable for installing large format tiles.
It's Worth Getting Right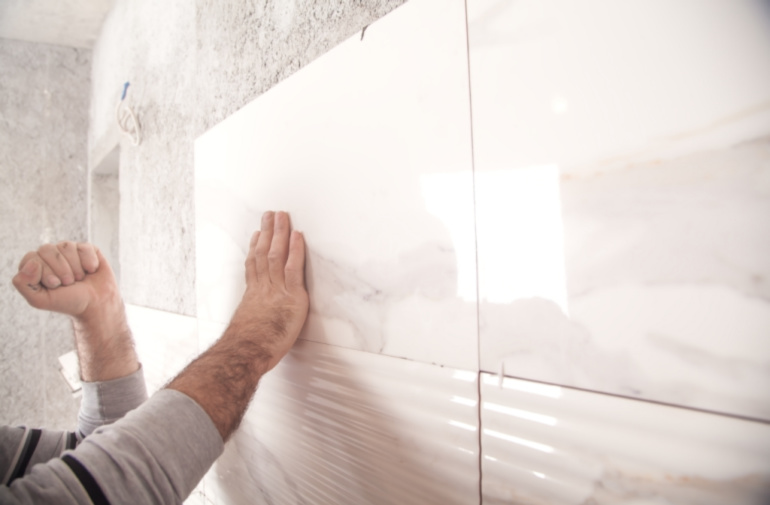 Before starting your next tiling project, make sure your floor or wall is flat enough to accommodate large format tiles. The last thing you want is to discover that you're working with an uneven surface after you've already started laying tiles.

It's always better to get it right the first time than have to start all over again.

If you'd like some help, we'd be happy to lend a hand. The Downright Tile and Renovations team has dedicated themselves to mastering the art of tiling. We can make sure your floor or wall is flat enough and lay the large format tiles ourselves. We can even help you pick the perfect design for your home.

Contact us, and we'll get started on bringing your dream project to life.
;