Kitchen Backsplash Remodel: A Modern Upgrade for Your Kitchen Aesthetics
The Magic of Kitchen Backsplash
The backsplash might seem like an insignificant part of your kitchen, but it's a hidden gem that brings out your kitchen's personality and charm. It's not just a simple protective layer for your walls from potential spills and splatters; it's a canvas where you can express your style.
Choosing the right backsplash material and design can update your kitchen's aesthetics and enhance its functionality. Whether you prefer a classic subway tile design or want to experiment with modern, unconventional materials like glass or metal, a well-thought-out backsplash remodel can rejuvenate your kitchen's look.
Impact of a Backsplash Remodel
The kitchen backsplash acts as an accent in the room, drawing attention and providing a focal point. A well-designed backsplash can complement your countertop, harmonize your color scheme, or create a stunning contrast. A remodel can introduce new colors, patterns, or textures, giving your kitchen a fresh and modern feel.
The backsplash also serves a practical purpose. Its primary function is to protect the wall behind your stove and sink from water, oil, and other kitchen messes. Depending on the material you choose for your remodel, your backsplash can become easier to clean and maintain.
A modern and appealing kitchen is a significant factor for potential homebuyers. An updated backsplash, though a seemingly minor detail, contributes to a modern, well-maintained kitchen look that can increase your home's overall appeal and value.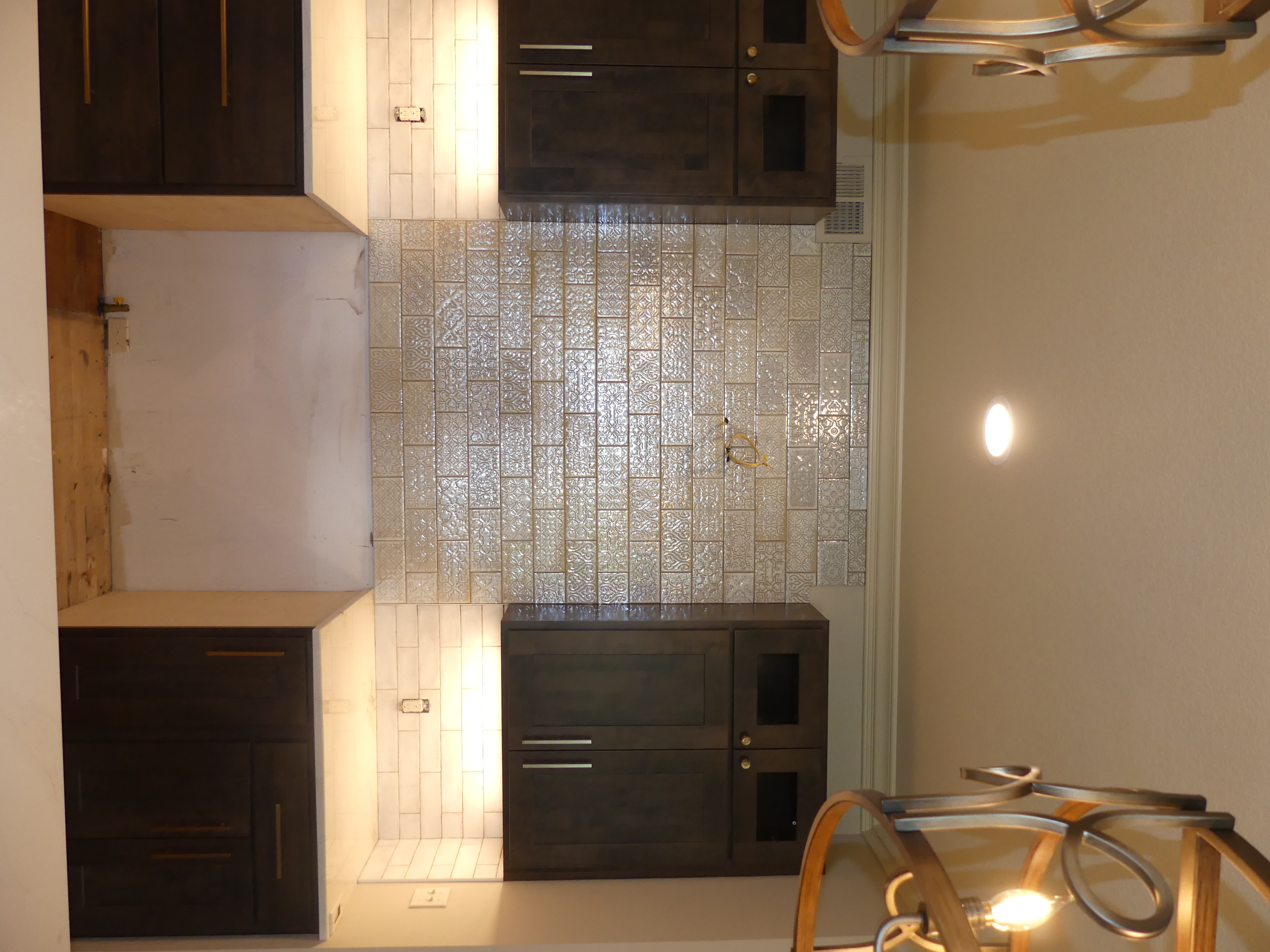 Steps for a Successful Backsplash Remodel
Define Your Style: Before you start your backsplash remodel, identify your kitchen style. Is it traditional, modern, farmhouse, or eclectic? Your choice of backsplash should align with this style to create a cohesive look.

Choose the Right Material: Today, backsplashes can be created from a variety of materials. Classic options include ceramic or porcelain tiles, while more contemporary choices are glass, metal, marble, or even mirrored tiles. Your choice of material should balance aesthetics, functionality, and budget.

Consider the Color and Pattern: Choose a color that complements your kitchen cabinets and countertop. You can go for a harmonious look with similar shades or a dramatic contrast. Similarly, the pattern can range from simple subway tiles to intricate mosaic designs.

Hire Professionals or DIY: Depending on the complexity of your chosen design and your comfort level with home improvements, you can either hire professionals or make it a DIY project.

Maintain Your New Backsplash: Regardless of the material and design you choose, ensure you know how to properly clean and maintain your backsplash to keep it looking new for years to come.
Nicole Galemore

Our experience with DownRight Tile was exceptional. We hired DownRight to install glass subway tile for our kitchen backsplash and coffee nook. They were extremely helpful throughout the entire process. From the get-go, they answered my millions of questions quickly and thoroughly. They were on-time throughout the project. I would say our project was a bit more complicated due to using glass tile and having a 70+ year old home with warped walls that weren't square. They exceeded our expectations and now we are using them for our bath remodel!
A kitchen backsplash remodel might be a small part of your kitchen upgrade, but its impact on the overall aesthetics and functionality of the space is immeasurable. By carefully choosing the right design, color, and material, you can breathe new life into your kitchen and make it a more welcoming, vibrant space in your home. Call or message DownRight Tile today for your new backsplash. You won't be disappointed! 816.826.1000
;