7 Common Kitchen Remodeling Mistakes Worth Avoiding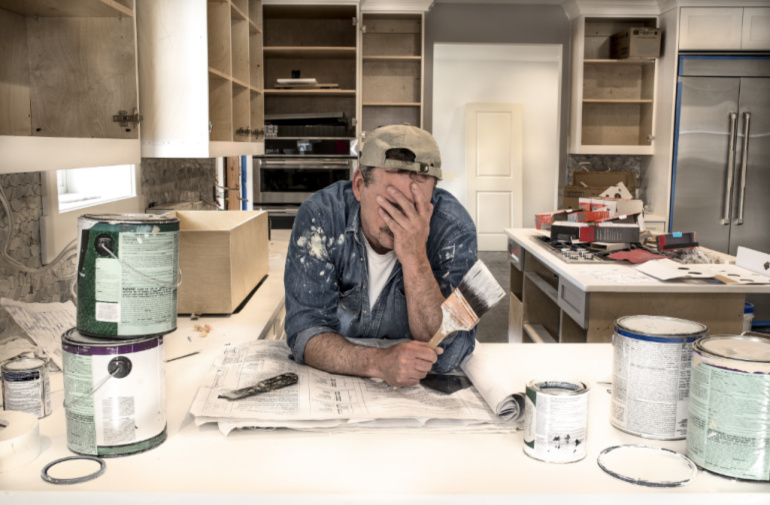 A kitchen remodel can be a significant investment for any homeowner. But it can also bring you serious returns in the form of a more convenient and beautiful home—and it even increase the resale value.

But any home renovation project comes with its fair share of risks. Before you get started tearing out any cabinets or replacing any appliances, make sure you aren't repeating the same mistakes other homeowners have made.

Here are 7 common kitchen remodeling mistakes to avoid.
1. Doing It All Yourself

Kitchen renovations are no walk in the park. It's one of the most costly, complicated, and time-consuming projects imaginable, and many would-be DIYers have come to regret attempting it on their own.

Even if determined to take a do-it-yourself approach, at least take the time to consult a professional before diving in. That way, they can give you some priceless advice while there's still time for it to do some good.

The last thing you want is to realize you've bitten off more than you can chew once the damage is already done. As the old saying goes: act in haste, repent at leisure.

Find a trustworthy, experienced contractor, and get some pro tips to help put you on the right track.

2. Leaving the Appliances for Last
It's always easier to choose cabinets and countertops to fit appliances than the other way around. Save yourself some hassle and choose the refrigerator, dishwasher, and other appliances first. Then, design the rest of the room around those.

3. Not Planning Enough Storage Space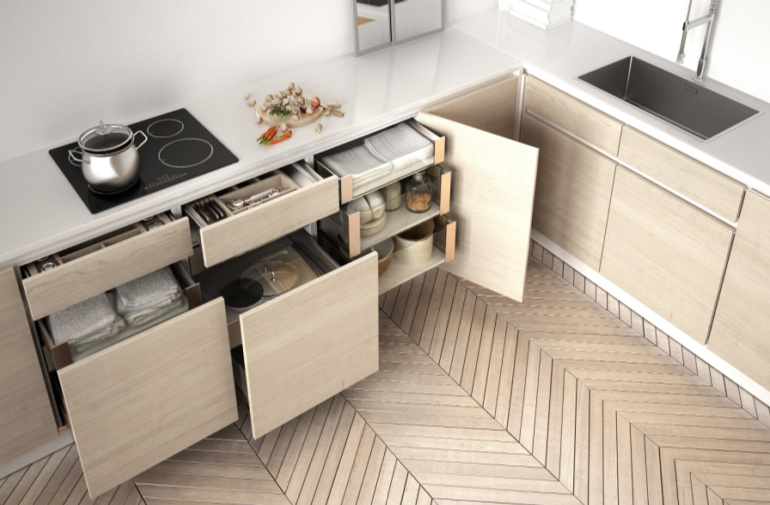 Storage space is one of the most important aspects of a functional kitchen, and short-changing yourself is one of the most common mistakes.

Make sure your design includes plenty of storage options, such as:
Drawers
Cabinets
Shelves
Racks
Pantry pullouts
Lazy Susans
Walk-in pantry
By giving yourself enough storage, you can greatly increase your new kitchen's efficiency and convenience. Plus, if you get it right from the start, you can save yourself the headaches—and expenses—of having to add more later on.
4. Overlooking the Lights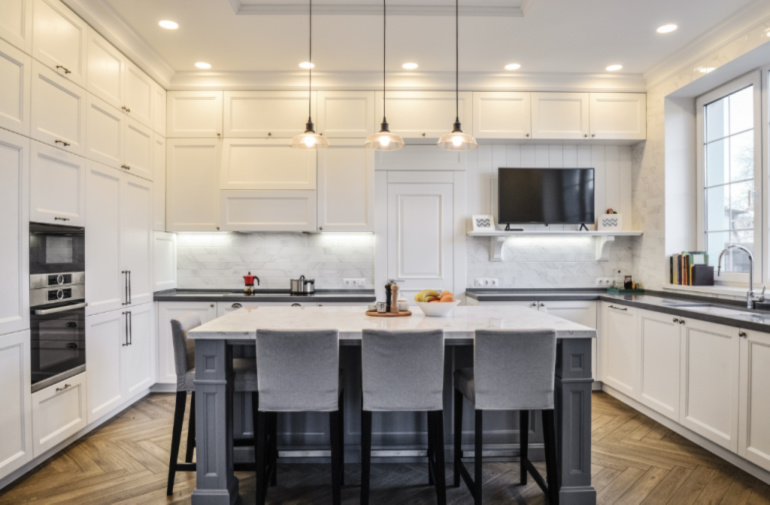 Many homeowners take the lighting for granted when remodeling their kitchen. Lighting is essential, however, if you want to make your new kitchen as comfortable and practical as possible.

At the bare minimum, you'll want two types of lighting:
A general light for illuminating the whole room
Task lights that focus on a specific part of the room, such as the sink, island, or stove
Beyond this, it's a good idea to add pendant lights for a more appealing look. You can also install lights under the overhead cabinets to help brighten the room and make the countertops more useful.
5. Not Prioritizing Your Workflow
The most-used parts of a kitchen are usually the sink, stove, and refrigerator. You'll probably spend a lot of time cycling between those areas, so make sure to arrange your kitchen layout to make that as efficient as possible.

Most kitchen designers recommend a "work triangle" approach.
6. Disregarding Aesthetics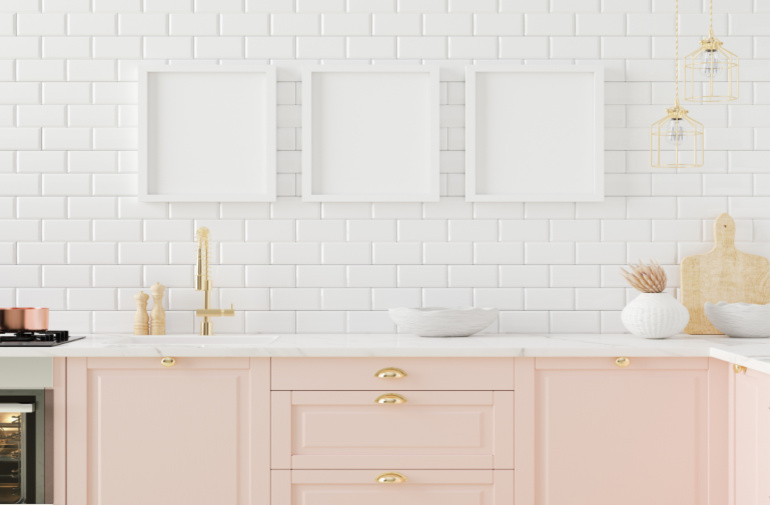 Function is important for any kitchen, but aesthetics matter too. This is no time to be a utilitarian. The kitchen should be a place people enjoy spending time, not an eyesore.

(Especially not if you're planning to sell your home anytime soon—buyers want to move into a beautiful, as well as practical, space.)

Design your new kitchen to look great with a catchy color scheme and consistent visual style. Nothing will exist in isolation. Opt for wall colors, cabinets, flooring, hardware, and appliances that will all tie together into something you can be proud of.

Don't be afraid to think outside the box, either. There's nothing wrong with trying something a little different.

Pro Tip: the backsplash is one of the primary focal points of your kitchen, so make sure it complements the overall look nicely.
7. Forgetting What You Can't See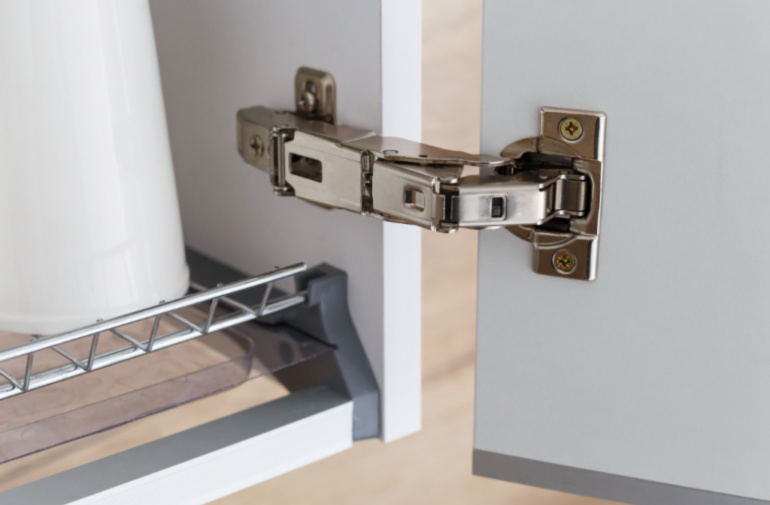 The cabinets, countertops, and appliances will be right out in the open, and it may be tempting to give them all your attention. But if you don't put enough care into the hidden parts of your kitchen, you could end up with big problems down the road.

Without sturdy hardware, your cabinet doors will be crooked in no time. Your gorgeous tile countertops will sag and crack if they're not installed on a strong surface. And if your floor isn't level enough, that elegant porcelain tile may end up with a nasty—and potentially hazardous—case of lippage.

So don't focus on only the visible aspects of your new kitchen. What's behind the walls and under the floors counts just as much in the long run.
Get Some Help from a Team of Seasoned Home Renovation Experts
If you'd like some help with your kitchen renovation project, we'd be happy to lend a hand.

At Downright Tile and Renovations, we install, repair, and replace tiles for almost any kitchen feature, including:
Countertops
Backsplashes
Floors
Walls
And if you aren't sure exactly what your kitchen needs, we even offer custom design services. Best of all, you won't even have to leave the comfort of your own home. We'll come to your house and help you make the right decisions for your unique needs and preferences.

Click here to schedule your free, in-home consultation.
;