Which Tile Adhesive Should You Use for Your Tiling Project?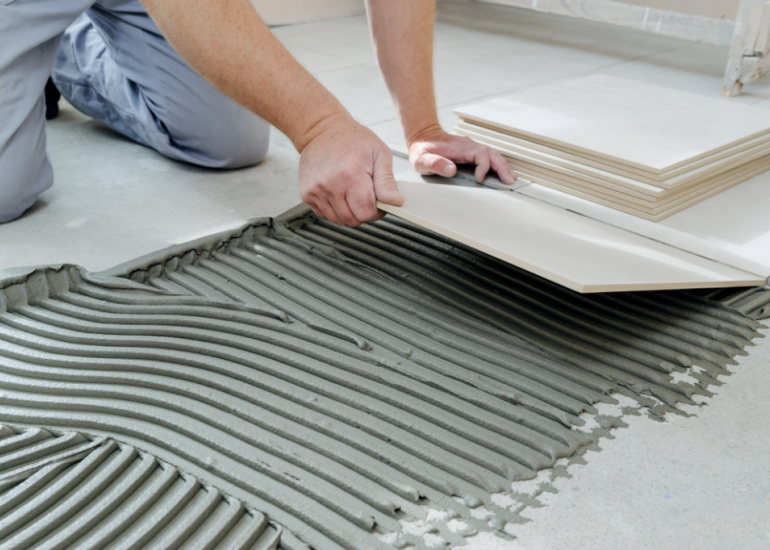 The right tiles can add plenty of style and convenience to a home. But when the time comes for installing those tiles, it's important to use the right mortar or glue. Applying the wrong adhesive is one of the most common tiling mistakes, and it could hurt the durability and convenience of your tiles.
Here's how to pick the right tile adhesive for your project.
1. Thinset Tile Mortar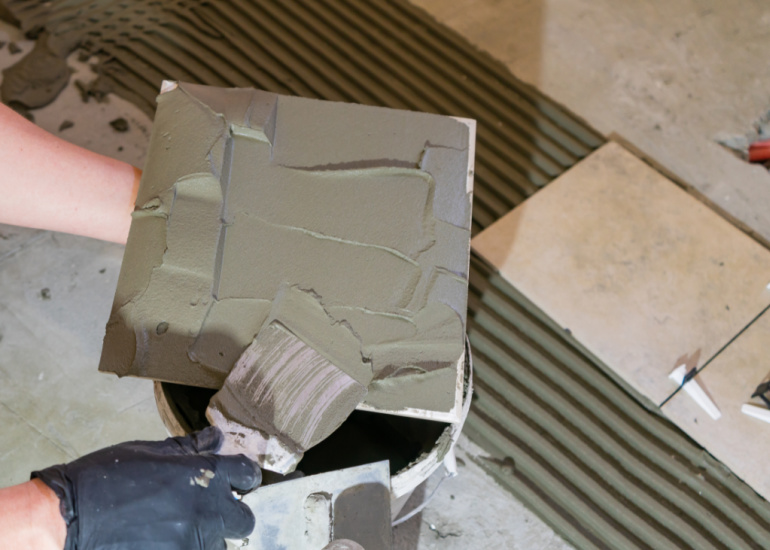 Thinset mortar is the most common choice for both indoor and outdoor tiling projects. Thinset has a smooth, slippery consistency, similar to mud. It comes in two primary forms: standard and premixed.
Standard thinset is a dry powder. When mixed with water, it forms a mortar you can use for securing tiles.
Premixed thinset, on the other hand, comes in tubs and is ready for action as soon as you open it up. This variety is more expensive than standard thinset, but its simplicity makes it a popular choice for DIY projects.
Thinset Tile Mortar Pros and Cons
Thinset mortar creates a strong bond once it dries, securing tiles firmly. This makes it a great choice when installing tile floors in any room. Plus, thinset can be used with virtually any tile material, including ceramic, natural stone, and glass.
Thinset is also moisture- and heat-resistant, making it ideal for tiling showers, countertops, bathtubs, or any other area that gets too wet or hot. Thinset is the go-to option for outdoor applications, such as patios and swimming pools.
And if you're dealing with an uneven or pockmarked surface, thinset can help. You won't be able to fix wildly out-of-level surfaces, but you can patch up minor problems.
Best of all, thinset is relatively affordable and easy to use. There's a reason it's the default tile adhesive for most home renovation projects.
On the other hand, you also need to mix a special latex additive into your thinset to strengthen the bond further and prevent cracking. And if you're using standard thinset, you'll have to use up the entire batch or throw out any excess. It can't be saved.
Thinset also takes 24–48 hours to dry, and vertical tiles may slip during the curing process if not secured properly.
Thinset often proves extremely difficult to remove as well, which can create problems if you ever decide to replace your tiles. (Though in some cases, you may be able to simply tile over your old tiles.)
2. Tile Mastic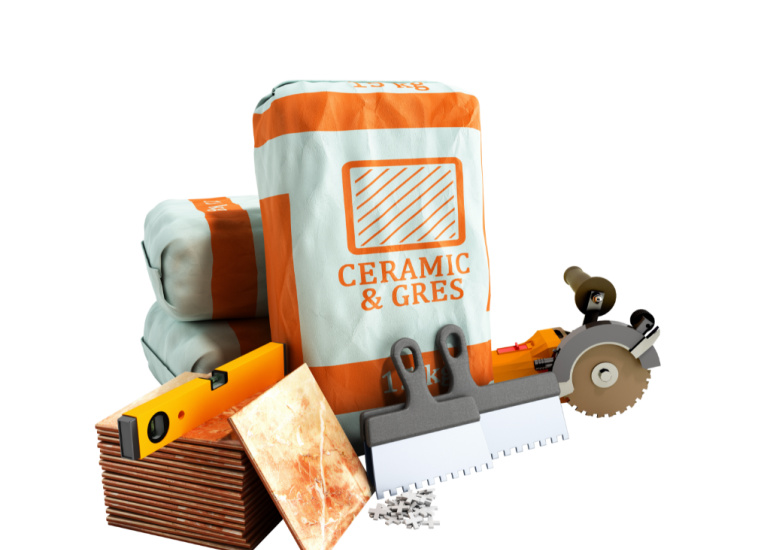 Tile mastic is an acrylic product with a sticky, gummy consistency. It operates more like traditional glue than thinset.
If your local home improvement store doesn't have any tile adhesives labeled as mastic, don't be surprised. Manufacturers typically advertise it as "ceramic tile adhesive" instead.
Tile Mastic Pros and Cons
Mastic's sticky, glue-like nature helps hold tiles in place better during installation. This is perfect for keeping vertical tiles from sagging or slipping when tiling walls or backsplashes.
Mastic generally only takes 24 hours to dry. And unlike thinset, unused mastic can be saved and used later. Mastic is also much easier to remove than thinset, which comes in handy when you want to pull your old tiles out.
However, while mastic's stickiness is useful for securing tiles, it makes it harder to adjust or fix them once they've been placed.
Mastic isn't suited for environments with high moisture or heat, either. It's rarely wise to use mastic for a shower pan, outdoor patio, or swimming pool. Mastic can be used for some areas with only intermittent exposure to water, such as shower walls, but you'll need to use water-resistant drywall or backer board when doing so.
Mastic also gives off a sharp, strong odor that takes some time to dissipate.
You have to be careful about what tiles you use mastic with, too. Mastic is also only designed for use with ceramic and porcelain and should always be avoided when installing natural stone or glass tiles. Size is a factor as well, since mastic isn't recommended for use when installing large-format tiles.
3. Epoxy Tile Mortar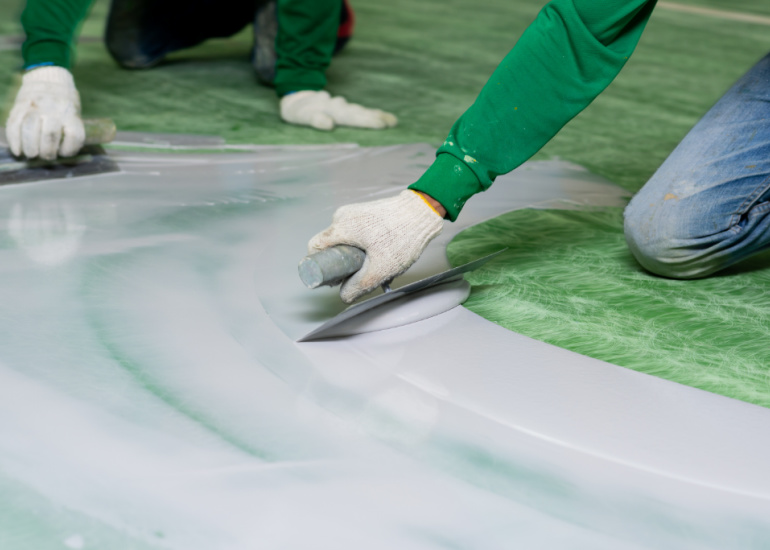 Epoxy tile mortar comes in two or three separate components, which you then mix together immediately before use. Epoxy tends to be the most effective tile adhesive, but it does have some complications that make it less suited for DIY projects.
Epoxy Tile Mortar Pros and Cons
There aren't any tiling applications inside or outside that epoxy won't work for. From floors to walls to ceilings—and anywhere else—epoxy will do the job.
Epoxy provides an even stronger bond than thinset and mastic, and is completely impervious to moisture, water, and most chemicals. Epoxy also doesn't require a latex additive to protect it from cracking as some thinset does.
And like thinset, epoxy can be used with virtually every type of tile. In fact, epoxy will even bond to metal or rubber. It sets up quickly, too, making it possible to grout tiles within just a couple of hours after applying it.
However, epoxy is more expensive than thinset or mastic—and much more difficult to mix and apply. Plus, because it dries so quickly, you won't have long to install your tiles or make adjustments.
In short, epoxy requires quick, skilled application, and may not be the best option for DIYers.
Get Some Expert Help for Your Tiles
If you're considering a home renovation project involving tiles, we'd love to lend a hand.
At Downright Tile and Renovations, we've spent years helping homeowners throughout the greater Kansas City area with their remodeling needs. We install, replace, and repair tiles in a wide variety of applications, including:
Floors
Walls
Bathrooms
Basements
Patios, decks, and porches
And if you're not sure exactly what you want, we even offer personalized design services. Just contact us, and we'll come to your house to help you pick out the perfect options for your unique needs and preferences.
Click here to schedule your free, in-home consultation today
;