How to Tile Over Existing Tiles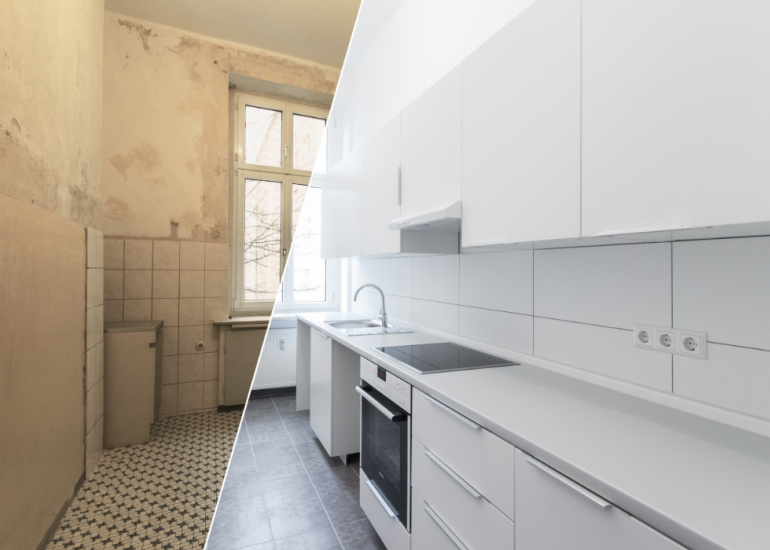 If you have a tiled surface that needs an update, you might be wondering, "Can I tile over my existing tiles?" After all, that would save you the hassle of ripping up the old tiles, scraping away the dried adhesive, and possibly replacing the entire underlayment.

So can you tile over existing tiles? In many cases, yes—as long as the old tiles are still in decent condition. Here's how to do it.
Assess the Existing Tiles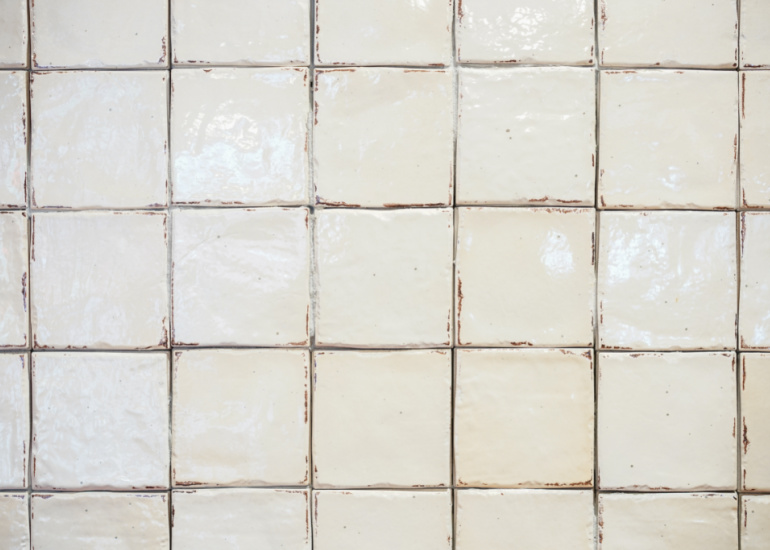 Start by conducting a thorough inspection of the old tiles.

If you see any mildew or deep discoloration in the grout lines, that's a sign that moisture is seeping in and there may be water trapped under or behind the tiles. That moisture problem will likely fester and cause rotting, weakening the floor, wall, or other surface.

Then, make sure that the old tiles were installed correctly. If they aren't flat or well lined up, the new layer probably won't be either. Likewise if there's any warping. Use a four-foot level to find any high spots or voids, and mark both.

Next, tap the tiles lightly with a wooden mallet or a small chunk of a two-by-four. If you hear a hollow sound, that means that a tile is loose. Mark those, too.

Of course, even if you have some minor absorption and poorly placed or loose tiles, you can fix issues and lay new tile on top. (More on that in the next section.) But if too many tiles are in rough condition, it might be better to tear them all out and start from scratch.

And if the surface behind or below the tiles isn't level, you'll have to remove the old tiles to fix that problem.
Consider the weight and thickness of the tiles involved, too. Tile can be heavy, and the weight of two layers could cause structural issues, especially for tiled floors. (Though if it's a small area, like a bathroom or an entryway, it may not make a difference.)

As for the thickness of the tiles, adding more tiles to your floor could raise the height anywhere from 3/8" to 1/2". This could affect the ease of opening and closing doors. And in places where it causes a sufficient height difference with an adjacent floor, it could create a tripping hazard.

Because of these factors, it's usually best to consult a professional before deciding to tile over existing tiles.
Prepare the Surface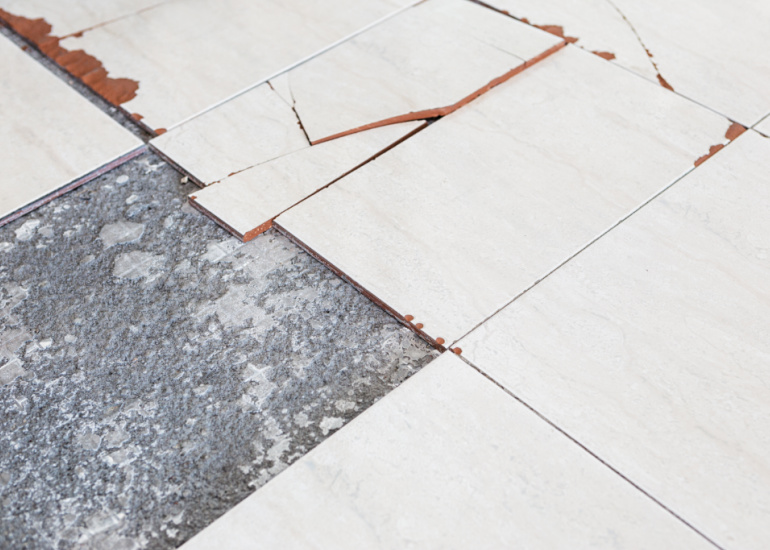 One of the most common tiling mistakes is not preparing the surface. Surface prep is essential to a successful tiling project, even when that surface is existing tiles.

Go back over the marks you made when assessing the tiles. Grind down any high spots and use thinset or floor-leveling compound to fill in the voids. If you found loose tiles, remove them, apply fresh adhesive, and secure them back in place.
You'll want to roughen the existing tiles so the adhesive bonds better, too. Sand the whole area using 80-grit sandpaper. Then, vacuum everything up, scrape and scrub the tiles thoroughly, and rinse them off.

Now it's time to start on the second layer.
Install the New Tiles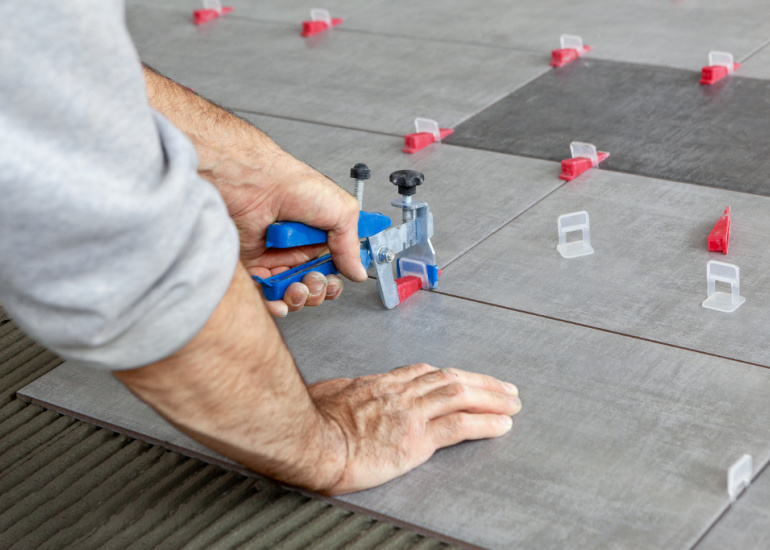 Plan the layout of your new tiles and cut them as necessary to fit. Add tile spacers to help maintain a consistent gap between them once they're in place, too.
Then, spread your adhesive over the old tiles with a toothed trowel, covering a section only a few feet wide. Don't cover too much of the surface at once. The adhesive may dry quickly, and you'll need time to set the new tiles before it's too late.
Alternatively, you could apply the adhesive directly to the back of the new tiles. However, this method won't hold the tiles in place as securely, and should only be used when the old tiles are in perfect condition.
Whichever way you apply the adhesive, always use the toothed edge of the trowel to "comb" it in one direction. The grooves should be straight, with no bends or swirls.
Set your tiles one at a time, pressing each firmly in place, and use a damp sponge to wipe away any excess adhesive. Continue this process until you've tiled the whole area. (Note: be careful to avoid lippage.)
Once the adhesive sets—usually about 20–30 minutes—remove the tile spacers. After 24 hours, you can grout the gaps between the tiles.

And that's it! Enjoy your stylish new tiles.
Can We Help You With Your Tiling Project?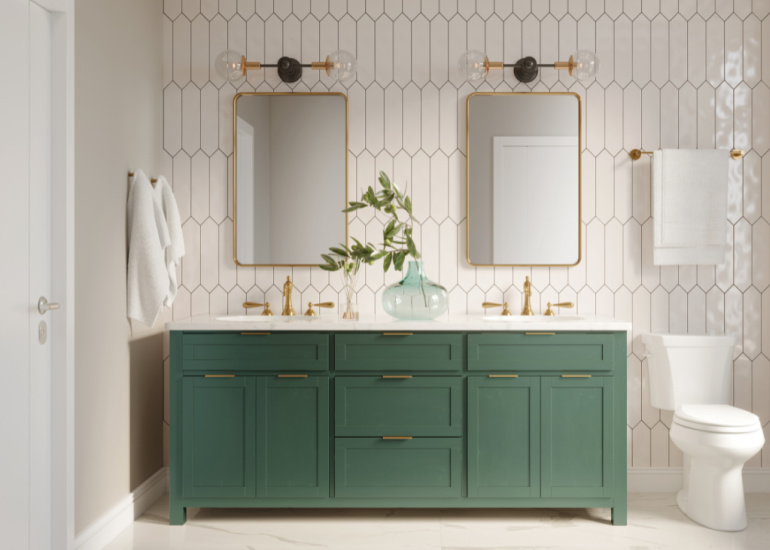 If you're gearing up for some home renovation, we'd be happy to lend a hand.
At Downright Tile and Renovations, we have years of experience helping homeowners throughout the greater Kansas City area with their remodeling projects. We install, replace, and repair tiles in a wide variety of applications, including:
Bathrooms
Floors
Walls
Basements
We even offer custom design services. Just contact us, and we'll come to your house and help you decide what's best for your unique needs and preferences.
;