The Best Materials for a Kitchen Backsplash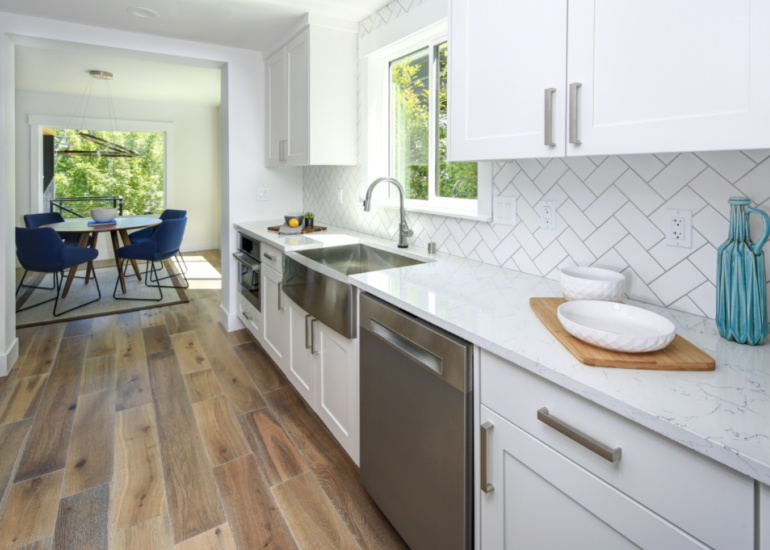 Installing a backsplash is one of the most practical kitchen renovations out there. The right backsplash will protect your walls from water damage, flying food, and grease splatter. Plus, a well-designed backsplash can easily improve the aesthetics of the whole room.
But which materials are best for a kitchen backsplash? After all, you want the perfect combination of form and function.
Here are your best options.
Ceramic or Porcelain Tile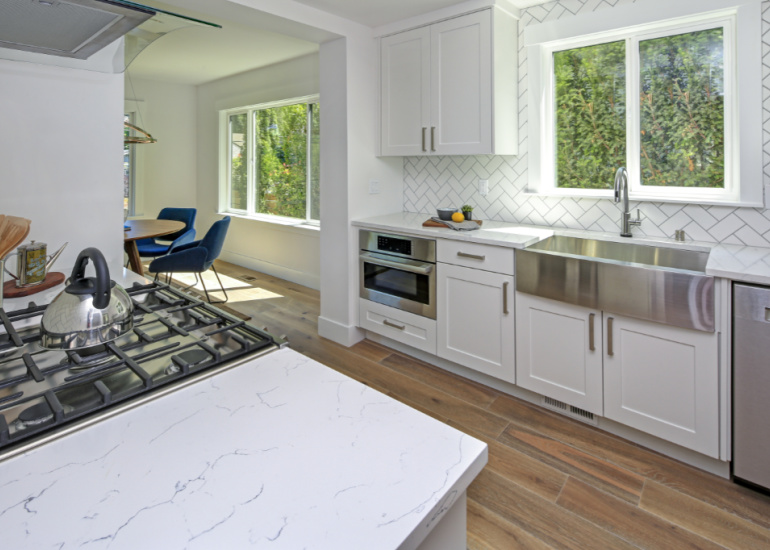 Ceramic and porcelain tiles are among the most common backsplash materials available. This is because both are waterproof, durable, and easy to clean. These tiles also come in a wide variety of styles and designs to suit any kitchen.
Best of all, while porcelain may be somewhat expensive, ceramic is a remarkably affordable material. Even if you're remodeling on a budget, ceramic tiles may still be an option for your kitchen backsplash.
Across the board, there are virtually no downsides to a ceramic or porcelain tile backsplash. They can even help make your home safer.
Glass Tile
You might think of glass as a fragile material, but glass tiles are plenty sturdy enough for a backsplash. In fact, glass is a very popular choice for many homeowners, and the trend shows no signs of slowing.
Glass tiles will give your backsplash a sleek, sophisticated look, meshing well with a modern kitchen. The reflective surface will also brighten the whole space. Installing multicolored tiles will enhance this effect even more, as the glass glitters and glints in the light.
And because glass is nonporous, you'll never have to seal your glass backsplash or worry about moisture getting inside the tiles. (Though the grout between the tiles will still need to be sealed, of course.)
If your remodeling project requires much cutting, however, glass may not be ideal. Glass is notoriously tricky to cut, and many would-be DIYers end up with a mess on their hands.

Stone
Natural stone will give any kitchen a more textured, organic feel. There are quite a few varieties to pick from, too, such as:
Marble
Granite
Sandstone
Slate
Travertine
Each of these materials could provide its own unique complement to your kitchen décor. For example, white marble offers a clean, chic elegance, while slate has an earthy character.
Stone tends to be porous, though, so you'll probably have to reseal it regularly.
Metal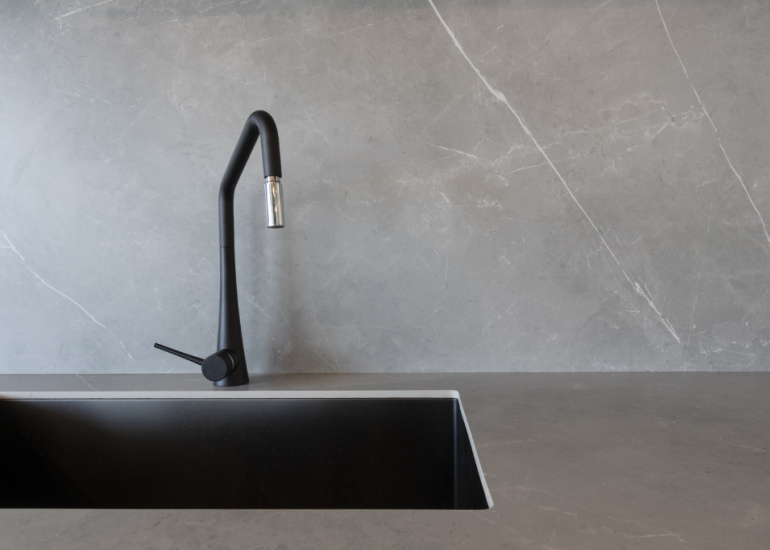 Lately, metal tiles and panels have become increasingly fashionable, especially as backsplashes. Stainless steel, copper, and brass have been popping up behind counters and stoves across the country, and countless homeowners are delighted at the distinct feel they can offer a room.
As you can guess, these metal tiles and panels are completely impervious to moisture and nearly all other forms of damage. They can also come with any number of intricate patterns, and as with glass, their reflective nature can help keep the room bright.
You may want to be careful before you order those copper panels, though. Many appliances are already made with stainless steel, and installing even more metal could make your kitchen a little too shiny.
Wood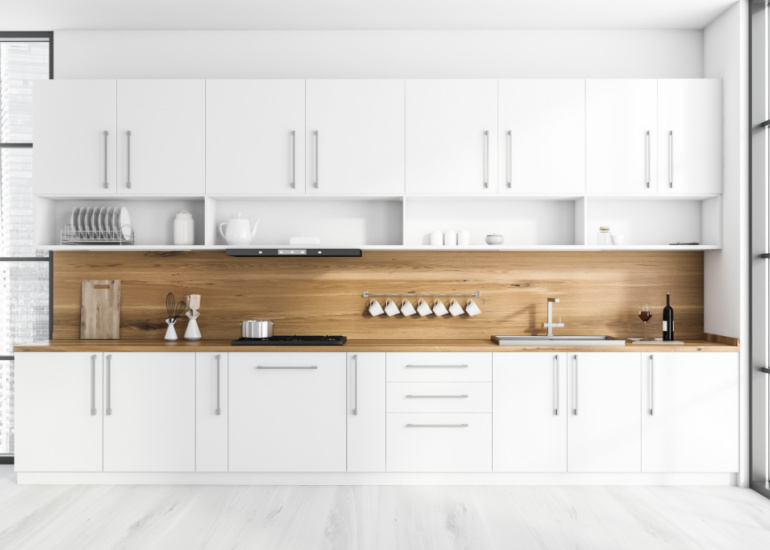 Wood may not seem like the obvious choice for a backsplash, but you might be surprised at how practical it can be if properly sealed before installation. It is true that a wood backsplash will still require a bit more maintenance to avoid stains or moisture damage, but the homey feel they can give to a room is often well worth the effort.
Right now, shiplap and beadboard backsplashes are very much in vogue, and it isn't hard to see why. Both complement a minimalist or cottage-style kitchen well and can introduce some serious personality to the space—especially if your kitchen is already full of stainless steel appliances and cold stone countertops.
However, for obvious reasons, you probably won't want to put a wood backsplash behind your stove. Your local fire code may even regulate how close flammable materials like wood can be to a gas burner or other heat source.
But if you'd like the look of wood in your kitchen without the added hassle or potential fire hazards, you can always opt for wood-look tiles—porcelain tiles that have been designed to look exactly like wood.
Upgrade Your Kitchen With the Perfect Backsplash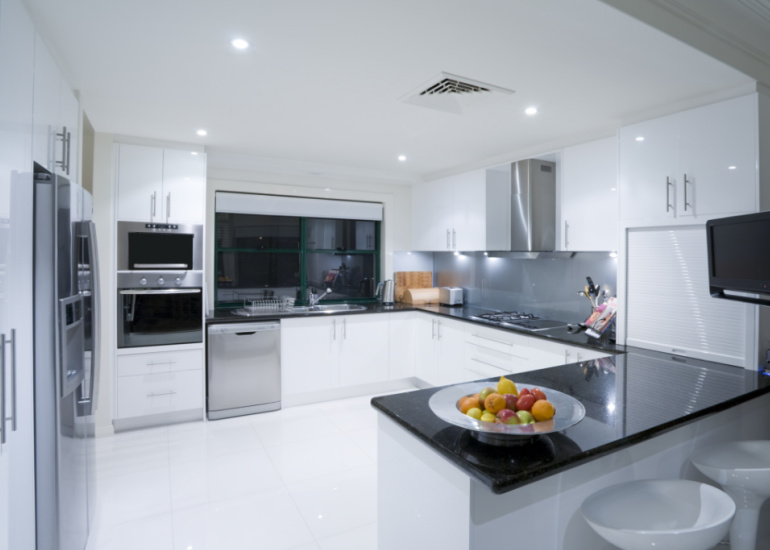 A quality backsplash will provide plenty of beauty and convenience for your kitchen. And if you're gearing up for a home renovation project, we can help.
At Downright Tile and Renovations, we offer first-class renovation assistance for homeowners throughout the greater Kansas City area. We install, repair, and replace tiles in various applications, including:
Walls
Bathrooms
Kitchens
Basements
Patios, porches, and decks
We even offer custom design services. Just contact us, and we'll come to your home to help you make the right decisions for your unique needs and preferences.
;